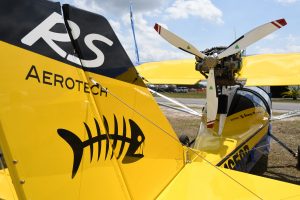 RS Aerotech today arrived and tied down their newly fitted SeaRey with a Rotax iS and MT constant speed propeller. This unique test aircraft was the brainchild of Michael Stock of Stock Flight Systems. The aircraft has been fitted with a full FADAC system for complete single lever control that reads and interprets via the CAN Aero system control information for the propeller pitch.
While the show opens tomorrow the aircraft has already created some interest with the many people setting up at the event. In addition there will be onboard telemetry that can be read from the ground, a first as far as small experimental aircraft of this size that we know of. Watch for a more complete report on this special aircraft later this week.
To view the aircraft, go to the Rotax iService and Training Centres booth, SE15 (near the main gate) at SNF 2017.