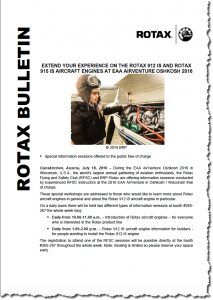 EAA Airventure is just about a week away!  We can't wait to be there!  The Rotax independent Service and Training Centres booth will be in the same spot of main aircraft display area as last year.  Right at the cross roads of the four hangers in spaces 265, 266 and 267.
New this year will be the two daily information sessions.  The first session from 10am-11am gives a general familiarization of Rotax and their various product lines.  The second session from 1:00pm to 2:00pm is geared more towards builders looking to install the Rotax 912iS Sport engine.
The information sessions are provided at no charge, however seating is limited so please book your space at the booth 265.
Click here for the official press release