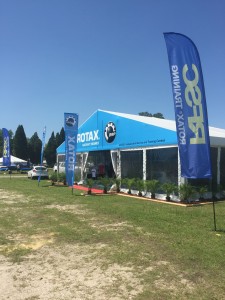 Today is the official start of the Sun-n-Fun 2016 Airshow. For those of you that are unable to attend, stay tuned to this site for updates and news.
This year the guys and girls at the Rotax iSC/iTC booth are doing things a little differently. Besides the bigger tent and slight booth change of location. They are now one space over from last year, in SE 15. (Turn right as you come in the main gate). They will be offering a daily Rotax 912iS installation information session.
The information session will start at 1pm daily and run for about an hour. RFSC Instructor Jorge Tavio will give a brief overview of the iS engine and then go into some key installation details. After that he will answer any questions you might have. Come by the booth and book early as seating is limited to 10 people.
Another not so new but still sexy bit of news, is that there will be an example of the new Rotax 915iS (a fuel injected turbo engine). So come on down and have a look.