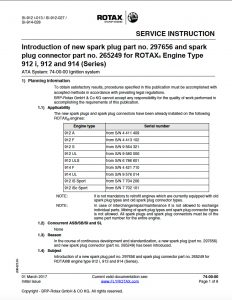 Today, Rotax released a new Service Instruction, entitled "Introduction of new spark plug part no. 297656 and spark plug connector part no. 265249 for ROTAX® Engine Type 912 i, 912 and 914 (Series)"
Click here to download the SI.
Let's take a quick look at the details:
What:
Rotax announced the introduction of a new spark plug for their 4 stroke engines.
Why:
In the course of continuous development and standardization, a new spark plug (part no. 297656) and new spark plug connector (part no. 265249) has been introduced. This new plug was developed so a single heat range will cover the 4 stroke engine line.
When:
This change is effective immediately. There is a limited supply of the old NGK and Nippondenso spark plugs and boots. You can still use these until they run out.
Who:
Anyone with a Service or higher iRMT rating is allowed to perform the change.