Friedrichs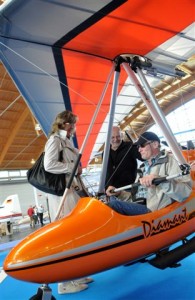 hafen – At an industry meeting at the AERO, the international aviation show in Friedrichshafen (April 24 – 27), representatives of aviation associations and aircraft manufacturers as well as industry journalists came together to report on the current state of affairs in general aviation. General aviation includes all civilian fields of aviation except airlines and charter flights, such as gliding, ultralight flight, powered flights with airplanes and helicopters, and even balloons. In his introduction, the industry journalist and president of the German aviation press club, Peter Pletschacher, gave attendees some current facts and figures on the industry.
According to these figures, the general aviation market continues to stagnate; the economic crisis has also impacted these companies. Thus, the number of aircraft delivered worldwide in 2012 was just 2133, a tiny 0.6% above the previous year. For comparison, Pletschacher referenced a figure from 2007, the last year before the crisis: that year, 4277 aircraft were delivered worldwide. However, at least helicopter manufacturers are bucking this trend: In 2012, 1044 helicopters of all classes were delivered, amounting to a 21 percent increase over the previous year. According to Pletschacher, because the average age of aircraft currently in use is an extremely high 37 years, in the event of a global economic recovery, high demand with a backlog of aircraft orders can be expected. Overall, general aviation companies recorded sales of 18.8 billion US dollars in 2012.
A more positive picture is apparent in some sectors of general aviation, as Dr. Nicolas von Mende, Director of the northern German company Atlas Air Service AG revealed. His company is the largest European partner of the US business jet manufacturer Cessna. The Ganderkesee-based company maintains and cares for more than 300 jets. 150 employees work for Atlas Air at four locations in Germany. In 2012, 16 new Cessna Citation jets were sold in Germany, a sales record. These jets are purchased primarily by successful entrepreneurs. Basically, the mood in the industry is currently "cautiously optimistic" according to Mende. "For the lighter jet segment, the AERO has become an essential event", Mende said, emphasizing the role of the general aviation trade show.
Powered ultralight aircraft represent another area of general aviation. They have at most two seats, may have a maximum takeoff weight of 472 kilograms and are especially quiet and fuel efficient. Christian Wenger, general manager of the aircraft manufacturer Flight Design, from Leinfelden-Echterdingen in Baden-Württemberg, Germany, sees his company in a good global position with its ultralights and slightly heavier light sport aircraft. For example, more than 1700 of the company's CT model aircraft have been sold in 46 countries since 1997. The company has been active in China for six years, because, according to Wenger, China and East Asia are the markets of the future, next to the traditional markets in Europe and North America. Wenger sees the AERO as the ideal counterpart to American aviation shows, especially as industry associations and government agencies participate in the show.
The Aircraft Owners and Pilots Association (AOPA) Germany is the general aviation association in Germany and represents the interests of pilots and aircraft owners. AOPA has 470,000 members worldwide. Dr. Michael Erb, general manager of AOPA Germany, sees the industry currently under pressure: "The situation is not easy in general aviation", he stressed, in light of weak broader economic conditions. Erb also complained about unnecessary bureaucratic restrictions. "In a time of economic weakness, we do not need uncertainty generated by government authorities ‑ they cannot make our lives even more difficult", Erb emphasized, reflecting pilots' uncertainty regarding changes in the requirements and specifications for European pilot's licenses. The systems in use in the large airline transport sector can't just be imposed on private pilots in general aviation; that would be neither practical nor sensible, Erb said. "We want a healthy dose of reason and sensibility to play a role at the regulatory agencies", Erb said, arguing that private pilots needed to be treated differently from airline crews. He praised the AERO aviation show as the "European marketplace for general aviation".
The AERO 2013 will continue until Saturday, April 27, 2013. Opening hours: Wednesday to Friday 9 a.m. to 6 p.m. and Saturday from 9 a.m. to 5 p.m. More information is available at www.aero-expo.com.